U.S.V.I. Certified Tour Guide
Taxi and Tour Guide Certification Training Program
In 2006, the Taxi and Tour Guide Certification Training Program was started by a small group of concerned taxi/tour guides and the University of the Virgin Islands, Community Engagement and Lifelong Learning (UVICELL) and the United States Virgin Islands Department of Tourism, the Hotel and Tourism Association and the Caribbean Hotel Association. This collaborative group remains committed to the highest possible proficiency standards for persons working in tourism in the United States Virgin Islands (USVI).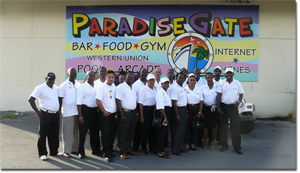 A principal goal was to vigorously prepare a well defined curriculum, including customer service, points of interest, VI history and culture, and presentation skills. To evaluate knowledge and skills, a two-part (written and oral) USVI Certified Tour Guide exam was strategically developed and administered. To maintain integrity, the exam is upgraded with each new session.
Having successfully completed the two-part test, a new USVI Certified Tour Guide has the ability to demonstrate achievement in the field of USVI tourism. As a result of certification program, the USVI Certified Tour Guide Association was developed as a testament to the high level of commitment and proficiency of the Certified Tour Guide Professional Designation.

Since its inception the USVI Certified Tour Guide Association has expanded its mandate to include the organization of educational and social programs, the coordination of mentorships for new recruits, recruitment of language specialty guides, and conducting several business meetings annually. The USVI Certified Tour Guide Association Board of Directors, which includes both elected officers and appointed committee chairs, further raises awareness of the profession by networking with local tourism entities, such as the Chamber of Commerce, Hotel and Tourism Association, The Department of Tourism and the Caribbean Tourism Department, with educational and entertainment venues, and with off-island meeting planners. Another goal of the USVI Certified Tour Guide Association is participation in the International Tour Guide Day, an annual worldwide celebration organized by tour guides throughout the world.
The United States Virgin Islands are considered as "America's Paradise" and a few very dedicated individuals have created this Association of local, national and international influence and distinction to provide local oversight of remarkable and astonishing tours at very convenient and affordable pricing. USVI Certified Tour Guides stand apart with coordinated uniforms, Certification I. D. cards, large yellow taxi decals, shirt/cap emblems with certification logo and Points of Interest reference manuals.